About Us
The Art of Jerry VanderStelt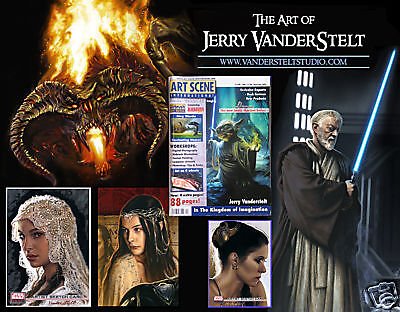 Hello.
My name is Jerry Vanderstelt, and I have been a professional Illustrator and artist for around 15 years. I have illustrated many science fiction and fantasy books for various publishers such as Ace, Scholastic and Pocket books as well as Lucasfilm Ltd., The Bradford Exchange, Capital One Bank,the Franklin Mint, Stern Pinball, Hasbro toys and New Line Cinema. Right now, my latest project is The Lord of the Rings Limited Edition Lithographs, licensed by New Line Cinema.
Check out my personal website at: www.vandersteltstudio.com for more information!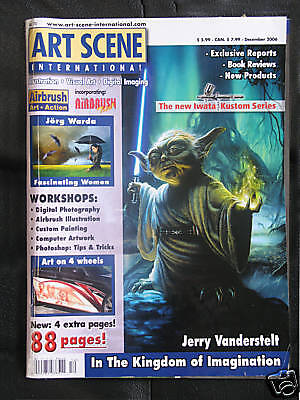 I realize you don't know me, and perhaps you are hesitant to make any purchases from me without knowing more a bit more about me. Fair enough. For your assurance, you can look at some of the feedback I have been getting since I started with Ebay. I also thought it would be helpful to add some links to a few major web forums that have people talking about my Lord of the rings lithos and how they feel about my product. Here are a few lhttp://www.theonering.net/torwp/2007/11/21/28065-the-fellowship-becomes-fine-art/
http://sideshowcollectors.com/forums/showthread.php?t=20552
http://sideshowcollectors.com/forums/showthread.php?p=648229#post648229
http://www.scoundrelpublishing.com/spart/viewtopic.php?t=3539&postdays=0&postorder=asc&start=0
http://newboards.theonering.net/forum/gforum/perl/gforum.cgi?guest=512750&do%3Dpost
See my website www.vandersteltstudio.com or my facebook at www.facebook.com/JerryVanderstelt for more information.
Below you will find some of my latest Feedback from my previous Ebay store.
My order arrived quickly and was packed well!

The Lord of the Rings TTT CE art print-Vanderstelt

Thanks Jerry, it looks great!

Lord of the Rings CANVAS GICLEE SAURON by VanderStelt

great seller AAAAAAAA++++++++++++

Lord of the Rings PAPER GICLEE SAURON by VanderStelt

great seller AAAAAAAA++++++++++++

LOTR-GALADRIEL and FRODO art print litho by VanderStelt

great seller AAAAAAAA++++++++++++

LOTR-FELLBEAST art print lithograph - by VanderStelt

great seller AAAAAAAA++++++++++++

Lord of the Rings - ROTK CE art print - VanderStelt

One of ebays finest sellers. Excellent item. Thankyou

The HOBBIT: An Unexpected Journey - Original Galdriel sketch

Awesome product, loved the sketch, top notch packaging. Thanks!

The HOBBIT: An Unexpected Journey - Epic Size Collectors Edition Canvas Giclee

First class ! Enjoying this piece very much

Darth Vader / Padme- Paper A/P by Jerry Vanderstelt

nice piece of art

The HOBBIT: An Unexpected Journey - Epic Size Collectors Edition Canvas Giclee )

It's a beautiful. Going out to buy a Glass inclose frame for now. Thanks again

DARTH VADER PAPER GICLEE A/P by Jerry Vanderstelt

Item was shipped with excellent packaging. Arrived within the expected timeframe

STAR WARS PAPER A/P's " Falcon " by Jerry Vanderstelt

STUNNING AS ALWAYS!!!!

The HOBBIT: An Unexpected Journey - Limited Edition Paper Giclee )

Always a pleasure to buy from. Would highly recommend. Thankyou

The HOBBIT: An Unexpected Journey - Original Thorin sketch by Jerry VanderStelt
Immediate shipping, perfect condition, artwork is amazing, thank you!!! A+++++

The HOBBIT: An Unexpected Journey - Limited Edition Paper Giclee

Get seller with top quality products. Highly recommend purchases.

The HOBBIT: An Unexpected Journey - Epic Size Edition Paper Giclee

Wow, great item, received it very fast, good work. Thx

The HOBBIT: An Unexpected Journey - Epic Size Edition Paper Giclee

Looks great and a smooth transaction! Thanks!

OBIWAN KENOBI CANVAS GICLEE A/P by Jerry Vanderstelt

Great Seller! Highly Recommended! Thanks!

Lord of the Rings CANVAS GICLEE Return of the King

Great Seller! Highly Recommended! Thanks!

Lord of the Rings CANVAS GICLEE Fellowship of the Ring

Great Seller! Highly Recommended! Thanks!

Lord of the Rings CANVAS GICLEE The Two Towers

Simply the freakin best!...that's all I gotta say!

The HOBBIT: An Unexpected Journey - Epic Size Collectors Edition Canvas Giclee

Amazing Work. Love the piece. The Force Is Strong With This One! A+++

DARTH VADER PAPER GICLEE A/P by Jerry Vanderstelt

Amazing Work. Love the piece. The Force Is Strong With This One! A+++

STAR WARS PAPER A/P's " Falcon " by Jerry Vanderstelt

Arrived earlier than expected, was in perfect condition, and is very beautiful

LOTR-GALADRIEL and FRODO art print litho by VanderStelt